Don't forget your raffle tickets! Online Raffle is closed…Please Purchase at the Luncheon.
one for $10 | six for $50 | fifteen for $100
Tickets can be purchased at the event via cash, check, or card.
* If you have purchased raffle tickets in advance, they will be available to pick up at the registration table on the day of the event. Thank you!
Join us at 11am for a pre-luncheon reception in the Burton Foyer of the Drysdale Student Center at University of Lynchburg to enjoy refreshments, a photo booth and this year's raffle prizes. Guests can purchase tickets online above or at the event via cash, check or credit card.
The Moore & Giles Welden Tote
Donated by Moore & Giles. Value: $435
Restrained but far from inconspicuous, the Welden tote is a versatile daily companion. Function—three internal pockets and a generous main compartment—is tucked inside a simple but striking form.
The Welden has been sized to be spacious without being bulky; the most determined multi-tasker will have space for all her necessities without losing a step on style. Read more about this beautiful tote: https://www.mooreandgiles.com/shop/welden-tote-virginia-natural/
Donated by: Dave Keebler, Value: $400
Gorgeous oil painting of the West Shenandoah Valley Allegheny Mountains is an original work by local artist Dave Keebler. The depth and colors are amazing and will be a gorgeous addition to any space.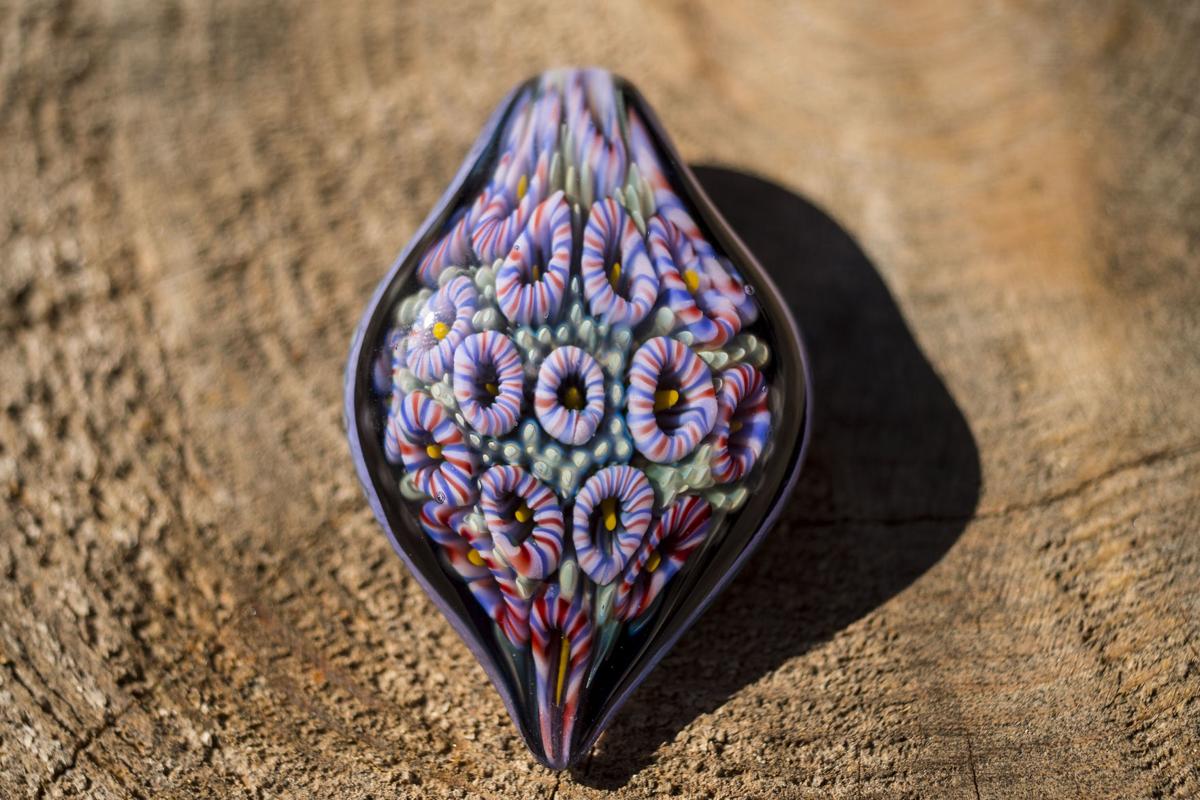 Glass Ornaments & Pendant
Donated by: Jon Baker, Value: $250
Jon Baker, a professional glass blower, takes a vat of molten glass and turns the raw material into beautiful ornaments and pendants. This prize will include two beautiful ornaments and a lovely pendant.
"Iceland Poppy Study" Painting
Donated by: Dave Keebler, Value: $500
This gorgeous 20" X 20" painting framed in gold is an original work by local artist, Dave Keebler. This painting will be sure to brighten any space in your home or office.
Donated by: James Peery, Value: Priceless
Enjoy a one hour sight seeing private tour for you and three of your closest friends. Relax in a luxury four seat airplane while you take in Lynchburg and the surrounding areas.
Donated by: Bowen Jewelry, Value: $370
This package includes gorgeous sterling silver earrings with an underlay of rose and a $100 Bowen gift certificate! Bowen Jewelry Company is a family-owned and operated business and have proudly served Central Virginia and the Lynchburg area since 1933.
Donated by: Dish and Steve Parry Restaurant Group, Value: $200
Enjoy some delicious food while you sample the offerings of a variety of local restaurants throughout Central Virginia.
The "Treat Yourself" Package
Donated by: James River Yoga and Lynchburg Aesthetics & Wellness, Value: $1719
This package includes a wonderful variety of "treats" for you, to relax and focus on your health and well-being! The winner will enjoy a 10-week yoga session at James River Yoga, a deluxe hydrafacial, botox treatments and a skincare package from Lynchburg Aesthetics & Wellness.
Donated by: Sarah Raessler, Value: $165
This 15X18 pastel chalk painting is an original work of art by local artist, Sarah Raessler. Sarah works solely with pastel chalk, loving the textures and mixing of colors. She has been creating with pastels since 2003.
The "Downtown Adventure" Package
Donated by: The Downtown Holiday Inn, Market at Main and The Academy Center of the Arts, Value: $235
Enjoy a night on the town, in downtown Lynchburg with your special someone! Included in this package is a gift card to Market at Main Restaurant, a gift card to the Academy Center of the Arts and a night's stay at the Downtown Holiday Inn with complimentary breakfast.
As a bonus, enjoy a guided tour with the ACOA's executive director, Geoff Kershner! This guided tour will allow winners to explore the entire theater, and learn the history of the Academy and the Historic Academy of Music Theater built in 1905.
Donated by: the Lynchburg Hillcats and Depot Grille, Value: $320
Enjoy an all-American night out! Winner will receive the use of a skybox at a Lynchburg Hillcats Baseball Game and a gift card to the Depot Grille for some post-game treats.
Home and Garden Design Consultation
Donated by: Carter Bendall & Patsy Wilkinson, Value: $250
This package includes an indoor one room consult and a yard landscape design consult. Give your home an update inside and out! Carter and Patsy are both well known in the Lynchburg area for their design and will be sure to leave you and your home with some wonderful inspiration.
Miriam's House is a 501(c)3 non-profit that exists to end homelessness by rebuilding lives and empowering our community's most vulnerable.